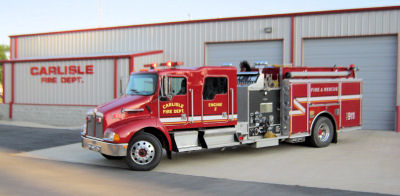 Carlisle Fire Department
201 W. Main St.
P.O. Box 49
Carlisle, AR 72024-0049
Emergencies: 911
Other Calls: (870) 552-7000
E-mail: fire@carlislear.org

Fire Chief
Derryk Burks

Asst. Chief
Leo Orton


The Carlisle Fire Department is staffed by a dedicated group of approximately 20 volunteer firefighters. The department is equipped with three engines, two brush trucks, and a utility truck.

Carlisle firefighters respond to all fire and rescue calls within the city limits, and to calls in the outlying areas of Lonoke County.



Click on Sparky the Fire Dog to learn more about fire safety.